If you've known me very long, you've heard me tweet about my OMG dumplings, say they're better than anything JengChi can dish out, and that they generally Rock the Casbah. They're only 28 calories each (steamed) according to the MyFitnessPal recipe calculator.
And they cook up in 15 minutes without supervision. Yup. Perfect for the "It's 9pm and I haven't eaten what food do we have" nights.
Now, I have to admit, it takes a good chunk of time to make them, but as a team effort it goes by pretty quick. We like to fold them while watching a movie, game, or backup shows on the TiVo.
This recipe makes about 150 dumplings depending on their size, and at 15/person per meal (an "average" adult portion), that's 15 meals. We don't make other stuff when we make the dumplings because it has most food groups in it and why spoil such a good thing?!?!?
You can also deep-fry or pan-fry these, but steamed is faster, less hassle, and healthier. You can also add ground pork instead of shrimp if you're allergic, or add other veggies instead of peas. We use peas not just for the flavor but also for the color (red shrimp + green veg + white chicken = pretty food).
Ingredients
2 large chicken breasts
2-2.5 lbs. 26-30 headless shrimp, peeled, deveined
a 3-fingered pinch of dried shredded black fungus (wood ear mushroom)
bean thread noodles, 2 "sections"
1c edamame peas or regular green peas (fresh or defrosted)
1-3 tsp freshly-ground black pepper
1 tsp salt
1c chopped green onions
5-8 cloves chopped garlic (to taste)
2 XL eggs, 3 smaller/organic/farm eggs
approx. 150 dumpling wrappers (defrosted if frozen)

large non-porous (stainless steel/glass) bowl

non-stick aluminum foil (like Reynold's Release)
cookie sheets that fit in your freezer
3-4 large freezer bags for frozen dumplings
cooking spray
steamer or large stock or soup pot w/domed lid and stainless steel splatter screen
Optional side soup:
chicken broth
a pinch of fried onions
a pinch of green onions
Directions and Digressions
Chop the chicken and shrimp until they are a very roughly-"ground" consistency. To do it in a food processor, cut the meats into 1″ cubes or pieces, then put in the food processor in small batches. You want the pieces to be individually identifiable in the dumplings, and grinding them too finely makes them into a gritty paste. Think small small chunks. We put the meats into the food processor, just enough to cover the bottom of the processor, for 4-5 long bursts.
Don't just turn it on for 4-5 seconds, or half the meat will be paste and the other half huge chunks. Use quick pulses until the meat reaches the right consistency then drop into a giant stainless bowl.
It's not THAT much more work to chop it by hand and you have greater control over the consistency. I don't like it when the meat turns out mealy, so sometimes I prefer to chop by hand.
The black fungus comes in packages of whole mushrooms or "shredded". Seek out the shredded version (see photo). When I say a "pinch" it's because the dried mushroom is difficult to measure; it's all dry and tangly and crispy and difficult to portion and impossible to fit in a measuring cup. Take a 3-fingered pinch, separate those from the rest of the tangled mass, and that's about how much you'll need. The picture has the correct portion. Soak the black fungus in hot water until soft.
Bean thread noodles, or vermicelli, are packaged in 4 rows of 2 (the magic number 8). For these dumplings you can use two portions, or one row of noodles. Don't pre-cook the noodles because they dissolve quickly if you overcook them, and since they'll be steamed inside the dumplings you just want them pliable for now, not cooked. After they're steamed inside the dumplings they have the dumpling flavors infused into them and they taste amazing. Soak the bean thread noodles in hot water until soft. 
Chop the black fungus into 1/4″-1/2″ bits. Drop into the bowl.
Chop the bean thread noodles/vermicelli into 1″ pieces. Drop into the mix.
Add edamame peas, salt, pepper, 1c green onions, garlic to the mix.
Separate one egg, reserving the whites in a soy sauce or other tiny dish. Add second egg to the mix. If the eggs are smaller, add 2 whole eggs and split the 3rd.
Gently stir the mix, trying not to crush any of the ingredients.
Now we're ready to fold the dumplings!
Folding teh Nomz
My "folding setup" is usually:
a dumpling-wrapper-or-larger plate for folding
wrappers, open but not exposed to the air
cookie sheets covered in nonstick foil
the egg white bowl
dumpling mix bowl with teaspoon
Since I'm right-handed, I usually put the dumpling mix on the R, the plate and egg whites in front of me, and the cookie sheet to my left.
Below is a video of Tony folding the dumplings because it's a lot more difficult to explain than to show. And honestly everybody does it differently – there have been some hot debates about whether my way or his way is better (and I think it's obvious
). I do a little gentle press-against-the-plate when the dumpling is finished to get excess air out. He doesn't. The dumplings are all edible, so live and let live.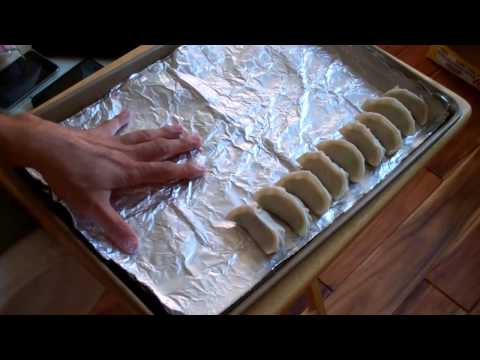 Some people get pretty competitive when folding dumplings, or or feel that there are a specific number of pleats "required", but if you're starting out, shoot for 3 pleats per side, 2 is good, 1 works just fine. The pleats help to fold the dumpling into its crescent shape, and if you choose to use them in a soup, the folding helps to keep them closed.
This amount in the picture above is the perfect amount of mix to add to the dumplings, just over a full "teaspoon" (utensil, not measurement). If you add too much you'll find out fast – the excess will squirt out the side when you try to fold it. Try to have consistent amounts in the dumplings so they cook evenly.
The first few batches you'll make are gonna be UG. LY. But ugly dumplings taste just as good as pretty ones, so you'll have time to perfect your swing, and have lots of osm nomz to eat in the process.
As he said in the video, we place the dumplings on cookie sheets in rows so they freeze individually without using flour. This means we have to clear out space in the freezer for trays to slide in, but they don't have to freeze thoroughly, just a bit so they won't stick to each other, before you can put them in a freezer bag for later eating.
Cooking Teh Nomz
Let me introduce you to my Cheater "Steamer".
I don't want to have to find a place store a 3-tiered stainless-steel steamer (despise single-use devices in the kitchen), and I don't like bamboo steamers – they have an odd flavor to them as they get older. If we had kids, I'd think about a tiered stainless, because then I'd probably have to make more dumplings at once, but for now this is my favorite method.
I use a ruthlessly practical flat (!) stainless steel mesh splatter screen, cooking spray, and a large soup pot. This pot is 12″ wide, not too deep, and can hold about 15-18 dumplings per batch. Your mileage may vary.
Fill the pot halfway full of water, and bring to a boil. You don't want the water touching the dumplings but you want it at a full boil the whole time for lots of steam.
Spray the spatter screen with cooking spray.
Place as many dumplings as will fit on the splatter screen AND be covered by the pot's lid.
I think that's enough for one pot, don't you?
Steam for 15 minutes, whether you're making them fresh or frozen.  Put the lid on the pot, go watch TV, grab a beer, do something else for 15 minutes. You've worked hard making these little guys and you've earned it. You'll know they're just about done when the smell of dumplings fills the kitchen.
If you need a visual check, you'll know they're done when you take off the lid and after a moment the skins suck up against the dumplings (see that one on the bottom right side in the picture above, all sucked up against the edamame peas).
Slide them off of the screen onto a plate (or two) with a pair of chopsticks, but the skins are still very soft, so be careful.
If you need to make another batch, rinse the screen, spray again, reuse. After the final batch make sure you get alllll of the goo off of the screen or it'll stick in the little holes and you'll never get it off, at least not without a lot of elbow grease, toothbrushes, and toothpicks (gah).
Eating Teh Nomz
Let them cool off a bit, maybe a minute or two, and bite carefully, because they're REALLY HOT in the middle. And they might be a little drippy. But OMG they're awesome.
I bought these little sauce bowls at Target and they're the perfect size and depth for a good amount of sauce and coverage per dumpling. I don't add much salt or seasoning to the dumpling filling because I like to play with the sauces aftrewards. Excellent sauces to try:
pepper (50% fresh-ground pepper, 50% Kikkoman)
jalapenos
green onions
red vinegar
peanut sauce
Worcestershire and soy sauce
Sriracha
sambal bawang putih, sambaj bajak, or any other Indonesian sambal.
Super H Mart has the BEST sauce selection in Dallas, bar none, but I've found the red vinegar at I've only found it so far at 99 Ranch in Plano.
Optional Soup
We also make a chicken broth with green onions, sometimes egg noodles, always fried onions (from the Asian store, not French), to accompany the dumplings if it's a "dinner" thing.
YAY NOMZ!
I hope you enjoy these dumplings, I know I do and they've save my dinner-making butt about 1000x. If I've forgotten a step or you have any questions, hit me up on Twitter @stealingsand